Wednesday

June 12, 2019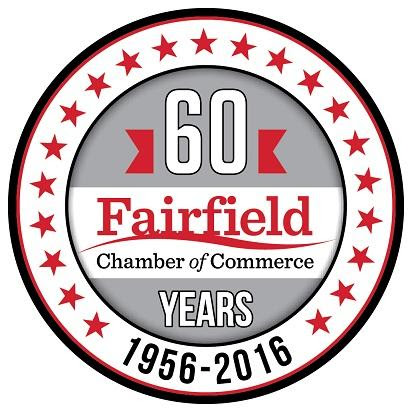 Fairfield Chamber of Commerce Weekly Snapshots
Please note: If viewing this publication with a smartphone, only a truncated version may be visible. If this happens, a link to see the entire publication will be available at the very bottom of the message. Simply click that link to see all of the news.
We're halfway to the weekend !!
Fairfield Chamber Networking
Next Meeting    
June 13, 2019
FAIRFIELD CHAMBER OFFICE
670 Wessel Dr.
11:30 – 1
              Please join us for Networking every
              2nd and 4th Thursday of the month
 Would like to sponsor a Networking lunch ?    
Please call the Chamber for available dates 
           MEMBER OF THE WEEK
          Liberty Mutual
              Kim Richards
           We are currently taking registrations          for our 2019-2020 Leadership Class
     Call the Chamber for details
City of Fairfield
New Fairfield Flyer
The City has many upcoming events for family entertainment.
Welcome to our Newest Members!
We are excited to welcome the following new members into our Fairfield Chamber family. Click each business name to visit their websites.
Awaken to Life

20 High St  #125

Hamilton, Ohio  45011

Jennifer Douglas

513-889-2266

Chick-fil-A Bridgewater Falls

3403 Princeton Rd.

Hamilton, Ohio  45011

Barbie Hudson
513-892-4232

Berd's Grill and Bar, LLC

500 Wessel Dr.

Fairfield, Ohio  45014

Matt Berding

513-227-7115

Team Brentley Marketing

P.O. Box 186867

Fairfield, Ohio  45018

Trevor Brentley

513-680-9368

My Loyalty Pays

675 Deis Dr.  Suite 113

Fairfield, Ohio  45014

Jimmy Rocchetta

513-484-7930

 

REFER a new member and get $25 off next year's renewal

Wize Owl Web
& Marketing LLC

81 Winding Trails Ct

Fairfield, Ohio  45014

Victoria Barber Emery 

513-206-3652

Hispa Dental

5850 Boymel Dr.  #4

Fairfield, Ohio 45014

Emmanuela Mena

513-463-6218

 
Please join us in welcoming our new members!
Ohio's Bureau of Worker's Comp
2019 Sustaining Sponsors
Platinum:
Bronze:
Fairfield Chamber of Commerce

Kert Radel, President & CEO

670 Wessel Drive

Fairfield, OH 45014